Denton Gardening Club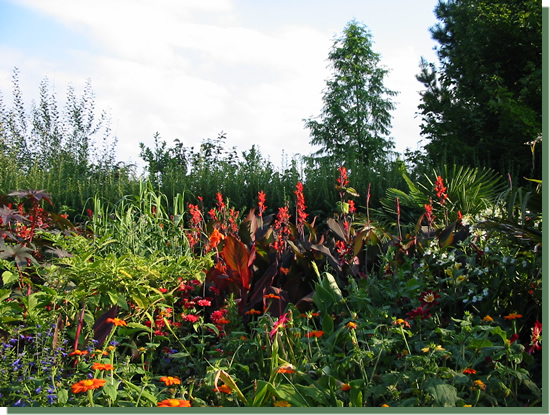 Introduction
Denton Gardening Club meets on the 3rd Tuesday most months (though there are occasional exceptions). Between October and April meetings with guest speakers are held in the village hall and in the summer meetings include evening outings locally, perhaps a visit to a garden or nursery, as well as meetings in our own members' gardens.
We also hold an Annual Show, summer outings, plant sales and other events. New members are most welcome so do come along and join us. Details of the current programme appear below.
Chairman: Allan Henderson: 01986 788730, Email
Meetings
Between October and April meetings with guest speakers are held in the village hall. Previous meetings have been on subjects such as Garden Design, Perennials, Orchids and Container Gardening. Whatever you are interested in there will be something for you!
The summer schedule includes evening outings locally, perhaps a visit to a garden or nursery, as well as meetings in our own members' gardens.
Summer Programme 2018
Visits will commence at 7 pm. Please try and car share. If anyone would like a lift or wishes to follow someone, please contact our Chairman.
Tuesday 22nd May - A visit to Sundial Farm, Shelton, NR15 2SQ.
NB. This is NOT the normal third Tuesday of the month.

Ally and John Hodgson are opening their garden under the NGS scheme for the first time this year on 19th May and have kindly agreed to open their garden to us for a private viewing.
Judging by the description on the NGS website, we are in for a treat: "A three-acre family garden with charming features including giant topiary faces, a secret garden and a pond. There is a new ornamental cutting and vegetable garden with greenhouse, extensive perennial planting a hazel walk and orchards. The journey through the garden mixes open areas of light and more secluded shady places to create interesting contrasts. The atmosphere is relaxed but playful."
There are some steps and different surfaces, so wheelchair access might be difficult. The owner has asked us to say that she has three small dogs and they may bark at visitors to begin with but she will keep them in check.
The cost per person will be £3. The money will be donated to the NGS charities. There will be tea and biscuits. There may be some plants left over from the weekend for sale.

Tuesday 19th June - A visit to Redisham Hall, Redisham, Beccles, NR34 8LZ.

The cost of the visit is £4 per person. There will be no refreshments. The nursery will be open during our visit.
Redisham Hall has a five-acre garden set in four hundred acres of parkland and woods. It includes a two-acre walled kitchen garden, herbaceous borders, shrubberies and mature trees.
The garden has lots of gravel paths and some lawned slopes. Wheelchair access is possible with assistance.

Tuesday 17th July - We are visiting two members' gardens this evening.

The first is to that of our newest member, Fiona Tomlinson, who moved into her house, Darrow House, IP20 0AY, which is at the far end of Darrow Green Road, (beyond Simon Winter's Farm), just months ago.
Fiona has lots of plans for developing her garden but would welcome ideas from club members. There is also a natural swimming pond and it will be interesting to find out how it works and what maintenance is required.
We will then move on to The Barn House, also on Darrow Green Road opposite the junction with Manor Farm Road. This is the garden of our Chairman, Allan Henderson and his wife, Sarah.
They have done much to renovate and develop the garden in the past few years and there have been quite a few changes since our last visit. Refreshments will be served here.

Tuesday 21st August - Denise and Peter Grant have invited us to visit their garden at Parr's Farm, Denton Road.

It is several years since our last visit so there are sure to be some changes.
Refreshments will be served.

Saturday 8th September - Open Show

Denton Gardening Club's 2018 Open September Show will be held at Denton Village Hall. As always, this will be our September fixture.
Further details will be published in due course.
Winter Programme 2017/18
This is what happened last time!
Tuesday, 17th October


Robert Taylor, our speaker for this evening, is a member of Bungay Camera Club and specialises in garden photography. We are sure he will be able to give us some helpful tips to capture the delights of our gardens and improve the quality of our photos.

Tuesday, 21st November


Michael Cole is a volunteer working for Suffolk National Garden Scheme. His talk is a new initiative to explain in detail how the Scheme works.

Tuesday, 13th December
Christmas Social Meeting with a meal and some table quizzes. Cost £3.00 per person (with a subsidy from club funds).
Places must be booked in advance and no later than 1st December. (01986 788352) if you are unable to attend the November meeting.
Tuesday, 16th January


The speaker this month is Angela Youngman. She will talk about how to garden having regard to water efficiency and recycling.

Wednesday, 20th February


A welcome return visit from either Chris Deakin or Jason Lock, local landscape designers. Their business, Deakin Lock, is based at Earsham Hall. Their interesting and informative talks were well received on their previous (separate) visits.

Tuesday, 20th March


David Keleel is the co-owner of Darsham Nursery and its very popular restaurant, which uses home-grown produce to produce delicious meals. He is coming to talk on Container Planting and will demonstrate some practical examples. He promises to be an entertaining speaker.

Tuesday, 17th April


Our final speaker for this season is John Hewson of Great Barton. He will be talking about his specialist subject of "Sweet Peas, Queens of Annuals".
Seed Buying
Every year the Club organises a bulk-buying scheme for seed purchases and obtains a substantial discount on most prices.
Catalogues are provided for members who pass their individual orders, by the deadline - normally the end of November, to the scheme organiser, John Chapman.
The seeds etc. are then delivered to John and distributed to members early in the New Year.
The company involved, Fothergills of Suffolk, add a delivery charge to each individual order so for small quantities it may be worth members combining their orders.
For further details contact John Chapman: 01986 788955 - Email.
Just click on any of the small pictures below if you would like a larger image!
The Annual Show
An Annual Open Show is held either in July or, more commonly, at the beginning of September.
This year's Show will be held on Saturday 8th September.
The 2017 Show was held on 2nd September.
Full details of the Show Schedule etc. together with an entry form appear on the Show Page.
Records of the winners at this and previous Shows appear on the Show History Page.
For further information contact:
Alan Henderson, 788730.
The following photos are from recent shows – click to enlarge.