Coming Events
These events may not be covered elsewhere on the website. Unless otherwise indicated the venue will be the Village Hall.
Whist - How to Play It - Friday 18th May
REARRANGED
Not quite a Whist Drive -
but your chance to find out how to win at future Whist Drives.
Very informal - all welcome.
Afternoon Tea at Glebe Farm - Sunday 13th May
In aid of St Mary's Church.
Tea, cakes, plants for sale, raffle etc.
From 2.30 pm at Glebe Farm, Norwich Road, IP20 0BB.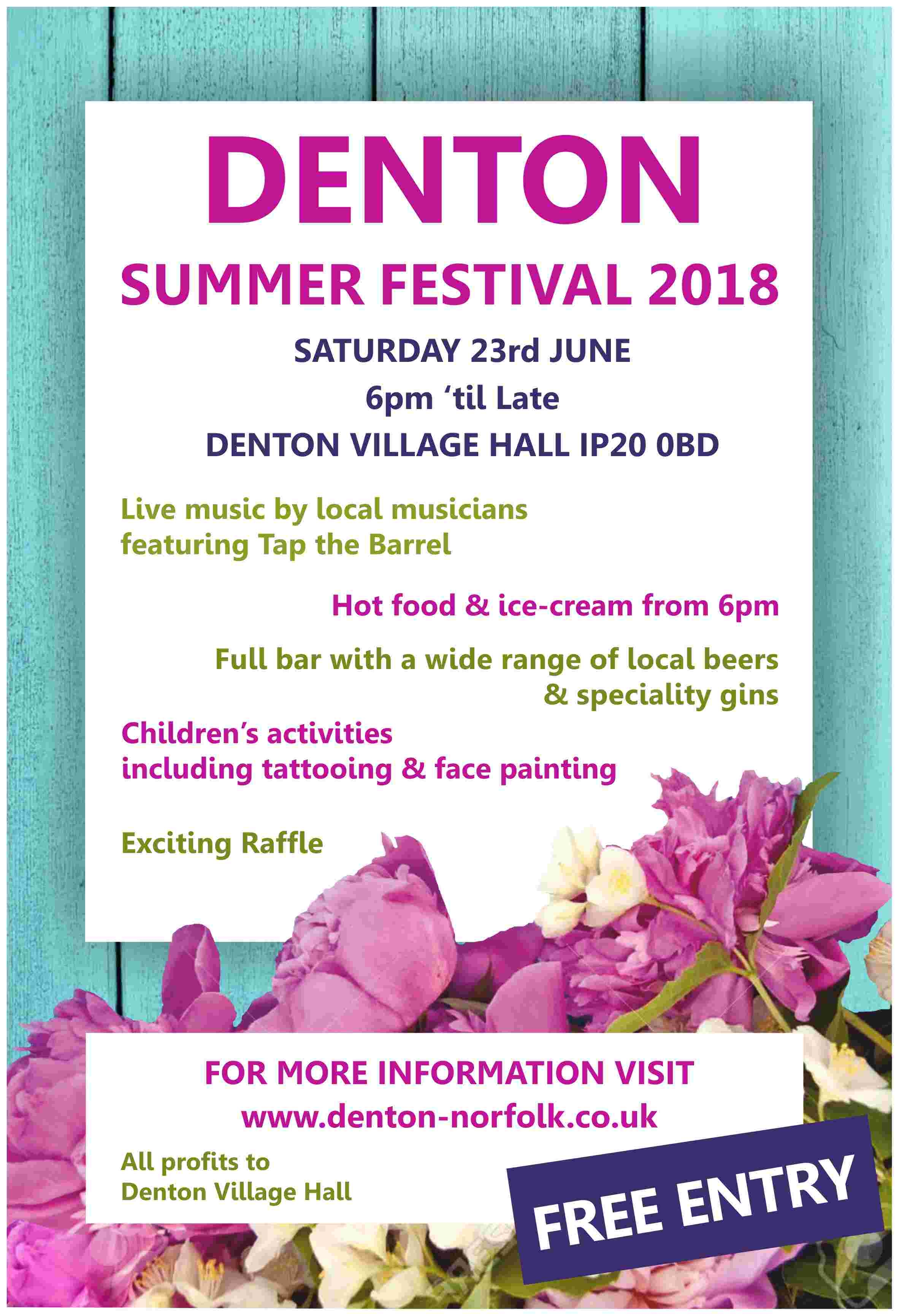 Summer Festival - Saturday 23rd June
This year our village Summer Festival will be held on Saturday 23rd June.
It starts at 6 p.m. will go on until late.
As last year, there will be a full bar with a range of local beers and speciality gins.
Local musicians will be providing live music. Those performing include:
Tap The Barrel
Hogie
The Dentones
Jason and Dougie
Sam Norfolk
Hot food and ice cream will be available and there will be a raffle.
Children are very welcome and there will be activities for them including tattooing and face painting.
All profits will go to Denton Village Hall.
We hope you'll be able to join us for an evening of music, fun and food for everyone.
If you have any further questions please phone Annie on 01986 788251.
Later On/Advance Notice
Church Fete - Saturday 7th July
Further details in due course.
Further Ahead
Beetle Drive - Saturday 13th October
Further details in due course.
Art Exhibition - Saturday 10th November
The members of the Denton Art Group will be demonstrating their skills.
Village Supper - Saturday 17th November
What community life in Denton is really all about!
Further details will follow later.
Church Celebrations
To celebrate the completion of the restoration project at St Mary's a series of special events is planned during 2018.
These are:
Easter Exploration - 21st March 2018,
Pageant "A Square Tower in a Round Hole" - 26th/27th June 2018,
Open Days - 15th/16th September 2018,
WW1 Commemoration " Picking up the Pieces in Peace" - 14th November 2018.
Further details will appear here in due course.