Coming Events
These events may not be covered elsewhere on the website. Unless otherwise indicated the venue will be the Village Hall.
Denton welcomes people from the neighbouring area to join in our activities. There are already a number of "honorary" Dentonians; the more the merrier.
QUIZAID – Saturday 21st October - 7.30 pm.
A two course meal is included in the £6 entry price.
Tables of up to 8. Prizes on the spot and raffle.
Quizmasters - Denise and Peter Grant.

Phone Bridget Hill on 788619 or Lucy Hildreth on 788408 to book your place.

All proceeds go to Christian Aid.
Later On/Advance Notice
Annual Village Supper - Saturday 25th November
Denton's social event of the year - not to be missed!
Christmas Market - Friday 1st December
Christmas starts here.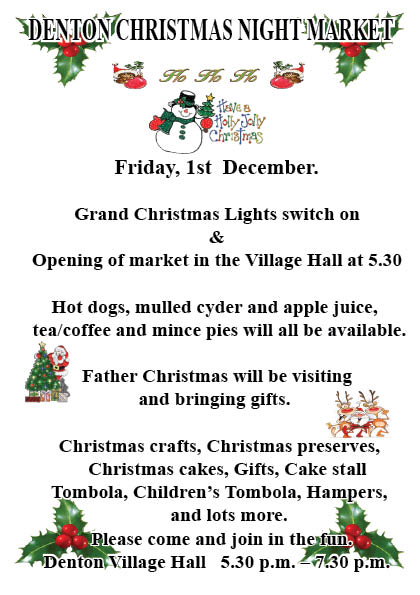 Denton Angel Festival
It will be back again at St Mary's in December, the 8th, 9th and 10th.
It was good last time. Let's make it even better this time.
More details soon, but do get your thinking caps on. ANY SIZE, ANY MATERIAL.
We are half way through the year; Christmas won't be long!
Further details from Sally Haigh - 788367.